Writer/illustrator/knitter Franklin Habit welcomes spring with a humorous take on two of his favorite hobbies in this month's column.

A month since I last wrote, and a world of difference outside. The change has only come in the past day or so, and it's precarious change, but it looks as though we may yet have our spring here in Chicago. This morning, in one of the flowerbeds under my charge, I saw this.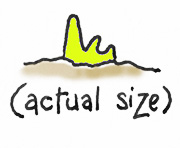 That's my first sight in six months of one common orange daylily (Hemerocallis).

My reaction to it was the reaction of the hero in one of those awful wartime romance movies...